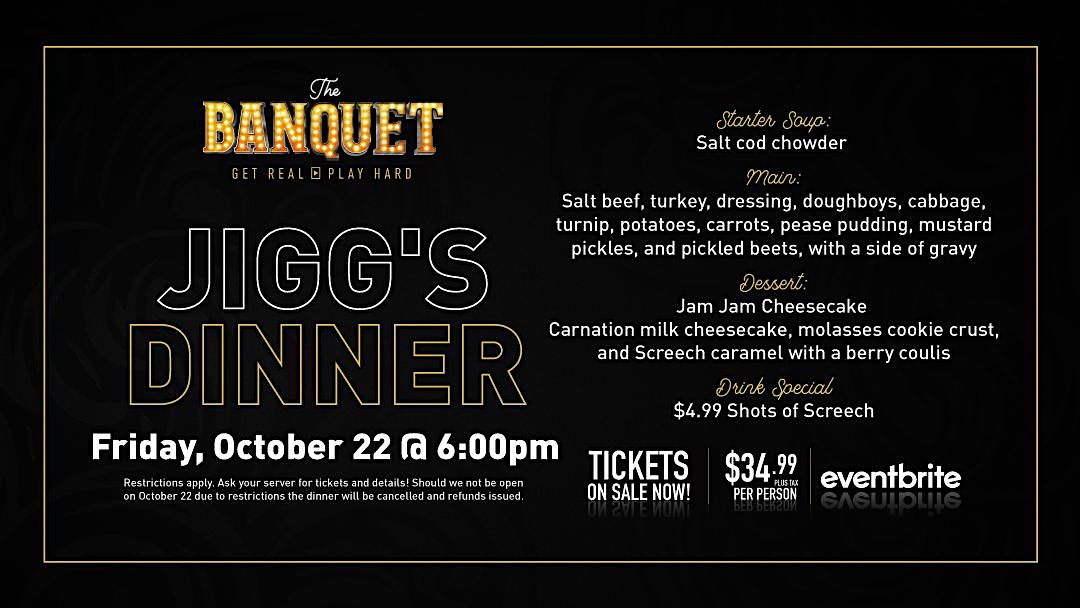 Events
Jigg's Dinner at The Banquet Bar
Join us to at our digs for some Jiggs!
STARTER SOUP: Salt cod chowder
MAIN: Jigg's Dinner! Salt beef, turkey, dressing, doughboys, cabbage, turnip, potatoes, carrots, pease pudding, mustard pickles, and pickled beets, with a side of gravy.
DESSERT: Jam Jam Cheesecake - Carnation milk cheesecake, molasses cookie crust, and Screech caramel with a berry coulis
DRINK SPECIAL: $4.99 Shot of Screech
Date and Time:
Friday, October 22
6:00pm - 10:00pm (Please ensure to book a reservation!)
Tickets:
$34.99 + taxes & fees (per person)
Restrictions apply. Ask your server for tickets and details! Should we not be open on October 22 due to restrictions the dinner will be cancelled and refunds issued.
-
Once you've purchased your ticket, please make a reservation by calling us at 780-750-8696 or book online here.
-
#thebanquetbar #screeching #newfiethings